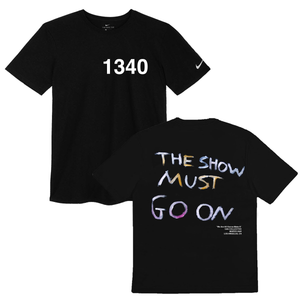 As a thank you to everyone that has shown such an incredible amount of love and support over the past few months... Here's a little surprise for you. 72 HOUR FLASH COLLECTION.
This is the final installation of our 1340 on NIKE "WE ARE ALL GONNA MAKEIT" collection. 

THE SHOW MUST GO ON. BELIEVE IN YOURSELF BECAUSE IF YOU DON'T... WHO WILL? 
If you have a dream... Just keep going. Your dreams mean something.
FITS TRUE TO SIZE. WE RECOMMEND BUYING YOUR NORMAL SIZE.