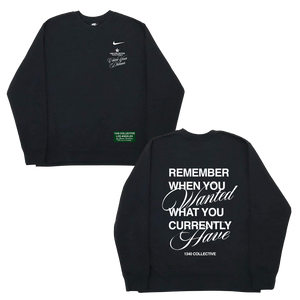 Remember when you wanted what you currently have. 
I feel like it's easy to forget the little wins. Just being able to wake up and pursue what you've always dreamed about. By no means have I made it in life yet, but damn... I think I take what I have around me for granted. Younger me, would be on cloud 9 if I could have what I have now. 
Celebrate the little things because those little things are what you used to dream of. 
FITS TRUE TO SIZE. WE RECOMMEND BUYING YOUR STANDARD SIZE.