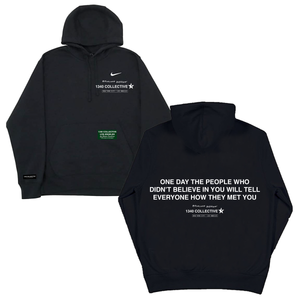 HAPPY EARLY BLACK FRIDAY! 
"ONE DAY THE PEOPLE WHO DIDN'T BELIEVE IN YOU WILL TELL EVERYONE HOW THEY MET YOU"
This is hands down my favorite 1340 piece of all time. A mixture of it being on a Nike hoodie... The message... The simplicity... I love everything about this piece. This is one of our most sought after pieces and it is currently available at a discount. 
Once we sell out of our excess inventory, this is gone forever! 
This piece fits true to size. We recommend buying your standard sizing.
Justin wears a LARGE.