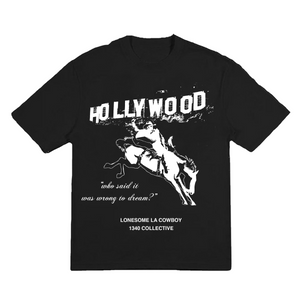 We're proud to share our new collection titled, "WHO SAID IT WAS WRONG TO DREAM?". When we are younger, everyone has big dreams. You can say you want to be an astronaut when you grow up and no one thinks twice. Most people honestly encourage it... But somewhere along the road, that mentality shifts. 
It becomes "weird" to dream big. People don't think it's possible anymore. Fuck that. This collection is meant to explore that idea. If you want to be a cowboy, be a cowboy. If you want to travel the world, travel the world. There's nothing wrong with wanting to dream. If someone says otherwise, they're a loser anyways.
We recommend buying your standard size. 
Nothing printed on the back.