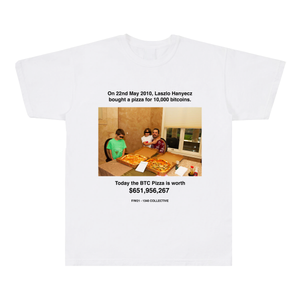 On 22nd May 2010, Laszlo Hanyecz bought a pizza for 10,000 bitcoins. Today the BTC Pizza is worth $651,959,267. 
My whole life everyone has told me to play it safe. Invest in mutual funds, keep up the daily grind and when you're 60 you'll have money. What's the point in that? I want to be young and enjoy my life. I want to look back when I'm older and be able to say "thank god I tried". This is what crypto currency is to me right now. It gives me a feeling of maybe this crazy life I've always dreamed of is actually possible. That's why I had to make a collection about it. 
This piece features a print only on the front. Nothing printed on the back.
Fits true to size. Justin wears a LARGE. 
WE ARE ALSO ACCEPTING CRYPTO CURRENCY PAYMENTS FOR THIS COLLECTION. At checkout, please select COINBASE COMMERCE!